CBCT
/X-rays
At Brace Place, we have the latest and one of the most advanced x-ray equipment with one of the lowest radiation output possible. We have state of the art CBCT (Cone Beam Computed Tomography) machine.
The 3D images from a single scan has one of the lowest radiation outputs. We aim to keep the number of x-rays and radiation exposure to an absolute minimum according to the latest guidelines.
CBCT x-ray
CBCT imaging allows a simultaneous view of the dentofacial structures and the soft tissue structures.
It is an important diagnostic tool to detect pattern and rate of facial growth, to detect abnormalities such as impacted teeth or supernumerary teeth, missing teeth, and root shortening.
It can determine damage to traumatised bone or teeth, determine bone level and gum problems.
It helps to predict with confidence the limitation of orthodontic and surgical procedures.
For impacted teeth, the CBCT scan improves the ability to localise these teeth accurately and to assess root resorption of adjacent teeth.
CBCT scan is typically taken before surgical exposure of impacted teeth, extraction of impacted teeth and prior to implant placement to assess the risk to neighbouring teeth and bone health/level.
A consultant radiologist would need to examine the scan to check the periodontal condition, to confirm if a tooth is ankylosed, or for gum recession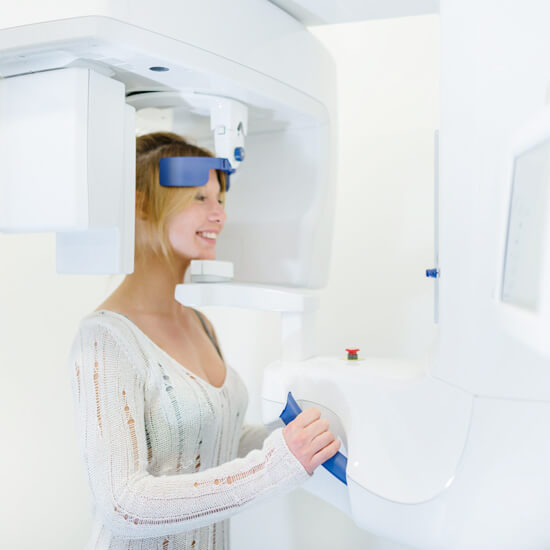 CBCT delivers the following types of images:
2D x-rays
Panoramic x-rays/ OPG are 2D x-rays required before the start of orthodontic treatment to check for any issues and determine whether it is appropriate to start orthodontic treatment(absence or presence of all the teeth including wisdom teeth, presence of extra teeth/supernumerary teeth, whether any tooth appears ankylosed, any signs of root resorption).
2D Cephlometric x-rays are needed for patients before starting functional braces treatment or for patients with overjet/ bite problems.
Periapical x-rays/ PA are taken to zone in on a particular tooth to check for caries, infection, abscess, gum disease and/ or if a root canal is needed.